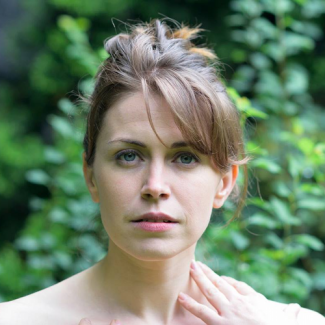 Carson is a Chicago-based choreographer and dance educator.. She has been lucky to have inhabiated quite a few cities and countries, but hails by origin from New Jersey. She moved to NYC at age 16 on her own to dedicate a more serious pursuit for her love of dance. She attended Alvin Ailey American Dance Theatre, Ballet Hispanico, Dance Theatre of Harlem and Joffrey Ballet NY, all on scholarship. Her first work as dancer was at 17 for Off Center Dance Theatre under Val Saurez. She was accepted into the prestigious Rotterdam Academy/CODARTS in Holland and attended the University for two years before moving to Linz,Austria to join x.I.D.A Dance Company and completing her BFA in the Dance at Anton Bruckner Universitat in 2007. While in Europe she also worked with choreographers Thereasa Ruggeri (IT) Amy Raymond(USA/NL) , Anka Majher(NL/PL), and Hannes Donauhauer(AU/CH).
Returning to NYC in 2008 from Europe over the next several years she had the privelage for dancing for many established and emerging artists such as Shen Wei, Malcom Low, Loni Landon, Yin Yue, Cleo Mack, Ana Kielson, Kate Grifler, York Dance Works, and many more for .
In 2011, she decided to focus her attention again on working in and creating international collaborations. The first was in the summer of 2011, she was invited to by the acclaimed Vincent Mantsoue(SA) and Michele Kelemenis(FR) to partcipate in CROSSINGS in Johannesburg, South Africa. An international collaboration of dance, light design, and composition that brought international artists from all over the world and South African artists for an intense 2- week work period with the final works being show at the Dance Factory Theatre in Joburg. Shortly after her return to NYC she performed with SWDA as a guest artist for the 10th Anniversary at the Park Avenue Armory in NYC .
At the end of 2011 she was invited by directors Mariano Leon(PE) and Daniel Rey(PE) to join as a colloborator and performer of the performance "Las Sacerdotistas De Machu Picchu". The "spectacular" was performed in Aguas Calientes, a small tourist village, literally right next to Machu Picchu.
After 8 months, she returned to NYC to present work at several venues until she was invited by Israeli dancer/choreographer Shaked Dagan to participate as a performer/choreographer for the producation that became known as "Kinding" in 2013. Kindling is an international project that was created over 3 months by 7 female artists in the Himilayan mountains village of Challal in India that was was taken on a month tour through Northern India, which included Manipur, Imphal, and that accumulated at the prestigious Habit Center in New Delhi, India.
She continued onto Israel from India where she taught dance and performed as an actress in the Stage's Production of "The Vagina Monologues in Tel Aviv.
Since the summer of 2014 she has been very happy to reside in Chicago. A place, as she says, that has the right kind of everything for her.
Other collaborative work has included with the amazing Russian theatre group, Liquid Theatre, where she met the directors Ksenia Petrenko and Aleksie Zherebtsov while attending Jacobs Pillow Choreographers Lab . And she was one of the original members of DOVETAIL(formally known as Old Doors/New Worlds) under the Grammy-nominated Fiddler Andea Hoag.
She believes very strongly in the study of the mind, education, and art and has taught in a wide range of environments in the USA, Germany, India, and Israel.
Works
Projects