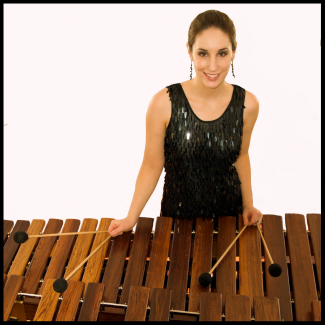 Living quietly deep in the heart of the Appalachian Mountains of Virginia, Larissa Venzie is an musician of the highest caliber and is recognized for her spell-binding musical interpretation, which shines in her performances. While still a high school senior, Larissa inspired musician Jack Scott to compose the marimba solo "Fantasie in Eb Minor" which she premiered in 2000. She then went on to earn her Bachelors Degree in Percussion Performance from Ithaca College in 2004 and returned to earn her Masters Degree in Percussion Performance in 2007.
Larissa specialized in the performance of the marimba under the guidance of the world renowned marimba artist Gordon Stout; resulting in a long standing personal and professional relationship. In 2002 Stout wrote "Laruci in the Sky, a marimba duet", for Larissa and a fellow student. In 2007, Larissa premiered Stout's composition Four Dances for Marimba which is dedicated to her. In the same year, Stout acknowledged Larissa' s exceptional talent by recording "Laruci in the Sky" with her. This recording is now available on his recently released album Welcome to Stoutland.
After completing her formal education, Larissa realized that it was time for her to return to the peace and splendor found in the Virginia mountains. She continues to share her love and passion for music by performing across the state and is a member of a select group of artists that makes up the Virginia Commission for the Arts Performing Arts Tour Directory. In recent years Larissa has given numerous recitals all over the state. She has been invited to perform for Virginia Commission for the Arts events including the women's showcase Minds Wide Open in Galax,VA in 2010 and as a solo recitalist as part of the Virginia Highlands Festival in 2008, 2010, 2012 and 2015.
In addition to performing, Larissa has focused on recording, engineering and producing her music. In 2012, Larissa released her debut album Neshamarimba and is currently working on a collection of six popular lullabies that she has adapted to the marimba. Larissa's music is available at www.larissavenzie.com
Albums