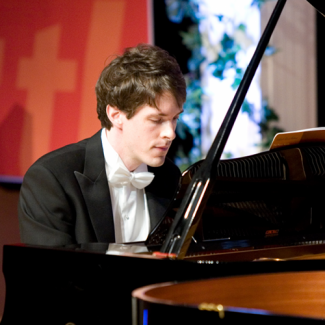 Michael Rector is committed to making the language of classical music vivid for people of all ages and backgrounds. As a pianist, he invigorates and expands the repertoire through innovative programming that re-contextualizes familiar pieces and makes vivid new and neglected works. His repertoire ranges from Haydn to Harbison and from Couperin to Carter. He is also a dedicated teacher, researcher and advocate for the arts.
Michael has performed in fifteen American states and two Canadian provinces in venues like Steinway Hall in New York and the Kennedy Center Terrace Theater in Washington, DC. He has performed in music festivals in Italy and Russia. He competes frequently in international contests, and is a prize-winner of the Jacob Flier Competition in New York.
In 2012 Michael and his wife, pianist Sylvia Hong, formed Duo Affannato. They have since toured extensively in the United States and Korea. At the 2013 NFMC Ellis Duo Competition, Sylvia and Michael won the 2nd prize and Abild award for the best performance of American music. In April 2014 Michael and Sylvia toured in Eastern Europe, performing concertos with the Georgian Sinfonietta and Black Sea Symphony. Their most recent project together is a crowd-funded commission of music for two pianos that depicts concepts in science through music - Jonathan Kolm's Creation of Discovery, intended for both concert presentation and outreach to schools and the scientific community.
Michael holds the doctoral degree from Manhattan School of Music. For the dissertation, he investigated Chopin's harmonic practice as influenced by the music of Louis Spohr and Romantic philosophy. He also earned a bachelor's degree from Oberlin College, where he majored in comparative literature. Michael enjoys presenting lecture-recitals and masterclasses both at home and abroad. His most recent article "Fascinating Corruptions-Historical Editions in Perspective" was published in the February 2014 issue of American Music Teacher. In his free time, Michael enjoys cooking, distance running and spending time with his dog Sebastian.
Performances