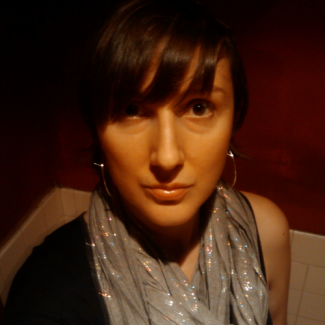 "Well, I was born in Zagreb, Croatia in 1977, spent my childhood in Zadar, and emigrated to New York in 1997. A lot happened among the spaces of that sentence. My first book of poems is Stars of the Night Commute (Tarpaulin Sky Press, 2009), a Lambda Literary Award in Poetry finalist. My second book, Rise in the Fall, is now out from Birds LLC!
"More? I received my MFA in Poetry from Hunter College, and I work and study at The Graduate Center, CUNY, where, among other poetry ventures, I help run the Annual Chapbook Festival, and Lost & Found: The CUNY Poetics Document Initiative. I also co-chair the Transculturations Seminar. With Amy King, I co-edit the journal esque and the PEN Poetry Series.
"Over the past couple of years, I've participated in a number of conferences and festivals. I gave the keynote at the Atlanta Queer Literary Festival, and was honored by the Feminist Press in their 40 Under 40: The Future of Feminism Gala. In 2011, I also visited the University of Arizona Poetry Center, and taught in the Summer Writing Program at Naropa University: check out The Trans Cyborg."
Works
Albums
Projects