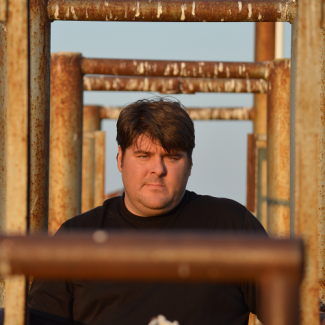 Mike McFerron is Professor of music and Composer-in-Residence at Lewis University in the Chicago area. At Lewis University, McFerron teaches music composition and directs the music technology program. He received a DMA in composition from the Conservatory of Music--University of Missouri at Kansas City where his primary teachers were James Mobberley, Chen Yi, and Gerald Kemner. A native of Oklahoma, McFerron also studied composition with Ray E. Luke. He has been on the faculty of UMKC and the Kansas City Kansas Community College, and he has served as resident composer at the Chamber Music Conference of the East/Composers' Forum in Bennington, Vt. McFerron is founder and co-director of Electronic Music Midwest.
McFerron's music has received critical acclaim and recognition. Perspectives for orchestra was awarded first prize in the Louisville Orchestra Composition Competition, was a recipient of the Chicago Symphony Orchestra's "First Hearing" Program (2001), was awarded an honorable distinction in the Masterprize International Composition Competition (2003), and an honorable mention in the Rudolf Nissim Prize (2001). McFerron was chosen the winner of the Cantus Commissioning/Residency Program, and he was a recipient of the 2005 CCF Abelson Art Song Commission. His music was a finalist in the 1st International Electroacoustic Music Contest - CEMJKO, the 2004 Confluencias Electronic Miniatures II International Competition, the 2005 Truman State/MACRO Composition Competition, The 2005 American Modern Ensemble Composition Competition, the 2002 Swan Composition Competition, the 1999 Salvatore Martirano Composition Contest, and the 1997 South Bay Master Chorale Choral Composition Contest. McFerron has been a composers fellow at the MacDowell Colony, Ucross, June in Buffalo, and the Chamber Music Conference of the East/Composers' Forum in Bennington, Vt. His music has been featured on SCI National Conferences, SEAMUS National Conferences, the International Computer Music Conference (ICMC), University of Richmond's 3rd Practice Festival, Spark Conference, Annual Florida Electroacoustic Music Festivals, Spring in Havanna, the MAVerick Festival, several SCI regional conferences, and concerts and radio broadcasts across the U.S. and throughout Europe. He has received commissions from Cantus, SUNY-Oswego, GeNIA, the Chamber Music Conference of the East/Composers' Forum, Nelson-Atkins Museum of Art in Kansas City, Lewis University, Sumner Academy of Arts and Science, and four times by the Metropolitan Youth Symphony Orchestra.
McFerron the chair of the executive committee of Society of Composers, Inc. and serves on the board of directors for the Metropolitan Youth Symphony Orchestra. McFerron's music can be heard on numerous commercial CDs as well as on his website at http://www.bigcomposer.com.
Works
Albums
Performances

Circuit Bridges: New Nodes Extravaganza
||
2015.01.29, 7:30 pm