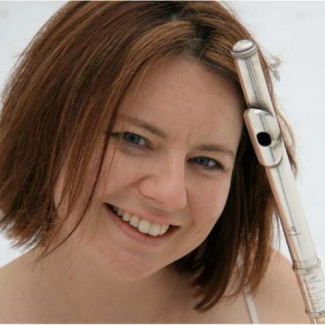 http://www.voxnovus.com/member/Rebecca_Ashe.htm
Flutist Rebecca Ashe is a freelance musician and appears across the country as a performer, lecturer, and masterclass clinician. A new music performer and collaborator, she has partnered with several composers and has performed at several festivals, including Electronic Music Midwest (Resident Artist for 2010 Festival), Society of Composers, Inc., Kansas City Electronic Music and Arts Alliance (KcEMA), the New York City-based Composers Voice Series, SPARK, SEAMUS, and the Electroacoustic Juke Joint. She can be heard on Plastic Time, an album of music by composer Jorge Sosa.
Dr. Ashe has performed recitals throughout the United States, Canada, England, and Latvia. In 2003, Dr. Ashe and pianist, Inara Zandmane, gave a recital at the Academy of Music in Riga, Latvia. Ms. Ashe was the first American flutist to perform a recital at the Academy, which was broadcast over national Latvian radio. She also gave a master class at the E. Darzins Academy of Music, the most prestigious preparatory music school in Latvia. Along with her recent collaborations, Dr. Ashe has premiered several pieces, including the Kansas City premier of Chen Yi's The Golden Flute, for flute and orchestra, in 2003, and Hsueh-Yung Shen's ...And Then Things Changed, for flute and piano.
Dr. Ashe is a founding member of Dark Matter, a collective of composers, performers and scientists. They are recent winners of the prestigious Rocket Grant, and their project Ascent, has won national acclaim. Please, visit the Dark Matter web site: www.darkmatterkc.com.
Along with her active performing career, she has kept an active studio of flute students ranging from elementary school age through adult. She has been adjunct professor of flute and music theory at Park University, in Missouri, adjunct professor of flute at the University of Mary Hardin-Baylor, Southwestern University in Georgetown, Texas, and at the Universtiy of Missouri-Kansas City.
Dr. Ashe earned her Bachelor degree in Applied Music (flute) at the Eastman School of Music, where her principal teacher was Bonita Boyd. She earned both Master of Musical Arts and Doctor of Musical Arts degrees from the University of Missouri -Kansas City, studying with Dr. Mary Posses. In 1998, she was the only American and one of four flutists worldwide to be chosen for Trevor Wye's prestigious one-year course in Kent, England. Other major teachers have included William Bennett and Karl Kraber. She currently lives in Greenville, South Carolina.
Works
Albums