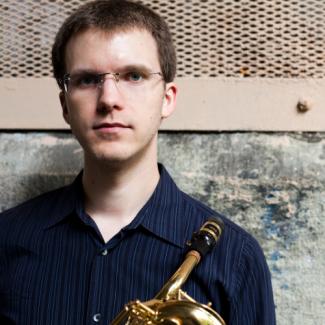 Based in New York City, saxophonist Zach Herchen performs contemporary, jazz, and rock music. He has premiered dozens of pieces ranging from Japanese noise rock to jazz tone poems to multimedia works. Recently Zach released his first CD, Emerging Voices, featuring commissioned works for voice and sax with opera singer Elisabeth Halliday. He performs with First Construction, New Thread Sax Quartet, Emerging Voices Project, Rhymes With Opera, Quiet City, and Man Down.
Zach has served on staff at NEC's Summer Institute for Contemporary Performance Practice and was an artist-in-resident at Wildacres Retreat. He has performed at BU's Spectral Summer Professional Performance Workshop, the SEAMUS National Conference, Third Practice Electroacoustic Festival, the 4th International Master-Class for Classical Saxophone, and the Look & Listen Festival. Zach has performed as a soloist in Italy, Sweden, Germany, and at various American institutions.
Zach holds a MM and BM in Saxophone Performance (and BM in Recording Arts Engineering) from The Peabody Conservatory of the Johns Hopkins University where he received the Richard Franko Goldman Prize for performance. He has studied with Gary Louie, Gary Thomas, Timothy McAllister, Arno Bornkamp, Vincent David, Jan Schulte-Bunert, and Ties Mellema.
Ensembles