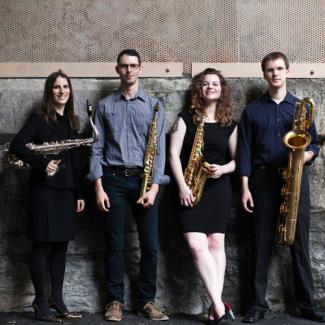 New Thread Quartet was formed with the mission to develop and perform impactful new music for the saxophone, and to provide high level ensemble playing to feature today's compositional voices. In 4 seasons, the quartet has commissioned and premiered 14 new works by composers such as Richard Carrick, Ben Hjertmann and Kathryn Salfelder, with upcoming commissions from Scott Wollschleger, Ryan Pratt and Max Grafe. Based in New York City, New Thread has performed at Carnegie Hall, Dance Theatre of Harlem, the Bang on a Can Summer Festival Benefit, and Monadnock Music, and has performed or recorded more than 30 important works for saxophone quartet including Kati Agócs' Hymn on New England Conservatory's Composer Series at Jordan Hall, a revival of Michael Djupstrom's 2001 work Test at Arizona State University's Katzin Concert Hall, and the premiere recording of Elliott Sharp's seminal work Approaching the Arches of Corti for 4 soprano saxophones, to be released on New World Records in 2016.
NTQ has a track record of working closely with composers in a workshop environment during the formation of new works and encourages composer attendance at rehearsals. The quartet strives for multiple performances of newly commissioned works in attempt to bring new music to different audiences as often as possible. Following its premiere in 2012 at the World Saxophone Congress in St. Andrews, Scotland, Richard Carrick's work Harmonixity received nearly a dozen public performances by New Thread.
The quartet encourages young composers to create new works for saxophones through an open submission policy, conducting reading/feedback sessions throughout the year. NTQ has conducted masterclasses, residencies, and performances for student saxophonists and composers at Peabody Conservatory, Bronx Community College, Aaron Copland School (Queens College), and NYU.
In high demand and recognized for its performance excellence, NTQ has received support from The Aaron Copland Fund, the Cary New Music Performance Fund, New Music USA, the FROMM Foundation, and the Queens Council on the Arts. NTQ is a presenting partner of Composers Now.
Works
Performances

Thoreau Bicentennial: Not Less Than the Good
||
2017.07.19, 7:30 pm
Not Less Than the Good [World Premiere]
||
2017.06.02, 7:30 pm

Con Vivo Music, Earth Day concert
||
2017.04.23, 7:00 pm