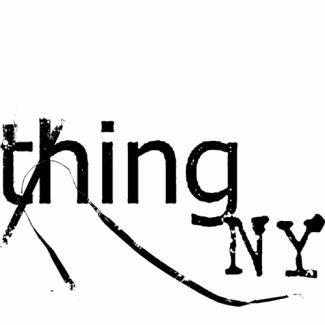 thingNY is a quirky collective of New York composer-performers who fuse electronic and acoustic chamber music with new opera, improvisation, theater, text, song and installation. Founded in 2006 for an ad hoc festival in the historic Loew's Jersey City Theater, thingNY performs experimental sound works created collaboratively by the core ensemble - Paul Pinto, Erin Rogers, Jeffrey Young, Gelsey Bell, Dave Ruder, and Andrew Livingston - and by adventurous composers such as Robert Ashley, Frederic Rzewski, John King, Pauline Oliveros, Miguel Frasconi, Vinko Globokar, John Cage, Julius Eastman, James Tenney, David Snow, and Andrea La Rose.
The musicians of thingNY are a prolific bunch. They've collaboratively created two concert-length operas: ADDDDDDDDD, premiered in 2009 and released on CD in 2010 with a comic-book libretto, and Time: A Complete Explanation in Three Parts, a 2011 performance collaboration with Panoply Performance Laboratory accompanied by a 250-page hardcover book. Later in 2011 they created In House, a sound installation with music created for each of the rooms commonly found in a home, to be played simultaneously. From 2009-2012, thingNY premiered hundreds of works over the course of three marathon performances called SPAM, in which the ensemble sent out a mass call for scores by email and performed every submitted piece. Jeff Young and Paul Pinto, Patriots, Run for Public Office on a Platform of Swift and Righteous Immigration Reform, Lots of Jobs, and a Healthy Environment: an Opera by Paul Pinto and Jeffrey Young, a 30-minute, politically-charged, theatrical work, was created and performed by the thingNY members in the title. It premiered in 7 West Coast performances in 2011, and toured to 17 cities in 17 days in June 2013. thingNY has also premiered many compact, high-energy chamber works by individual group members, including Paul Pinto's wildly verbose minis series and Erin Rogers' whimsical Trajectories, which they are currently recording and plan to release in 2015.
thingNY is a driving force in the New York music community, working to bolster and support new music and experimental performance, curating the New Music Showdown (2013-2014) and the Immediacies Series (2012-2014), putting a swath of performers from NYC and beyond in conversation with one another and allowing them to perform anti-concert-hall, or difficult-to-program works. thingNY has also performed important contemporary works such as Frederic Rzewski's Attica (1971), the New York premiere of Vinko Globokar's rarely staged opera Un Jour Comme Un Autre (1975), and played a large role in Varispeed's acclaimed site-specific adaptation of Robert Ashley's Perfect Lives (1983).
thingNY has produced some of their most interesting performances in underutilized spaces. In 2014, with the teenage new music ensemble Face the Music, the ensemble created a spatial work on the walkway surrounding the Queens Museum's 9335 square foot Panorama of New York City. Their mobile sound installation In House housed itself, among other places, in an abandoned Lower East Side apartment and an 18th century house museum. And, in an industrious flurry, the group refitted an old taxi garage for a three-day festival of experimental opera in Long Island City in 2012.
thingNY has received multiple grants from the Aaron Copland Fund, the New York Department of Cultural Affairs, and the Queens Council on the Arts, residencies at Incubator Arts Space, Standard Toykraft, and the LaGuardia Performing Arts Center, and they are currently developing a third concert-length, collaboratively written opera for 2015 called This Takes Place Close By. While in production, this latest opera has toured to Philadelphia, Boston, New Haven, and Edmonton and Calgary, Canada.
Albums
Performances

University of the Streets - Preservation Campaign
||
2010.01.14, 6:00 pm