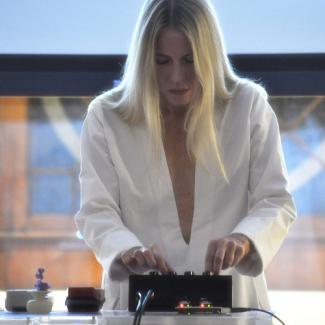 Composer Melissa Grey's projects include concert works, electroacoustic performances, installations, food and sound events, and frequent collaborations with artists, architectural designers, musicians and composers.
Recent projects include hyperlocal for ETHEL, and kinetic scores based on combinatorial memory wheels: blur (after blue hour) for Payton MacDonald's Sonic Divide project and Volvelle for the Bowers-Fader Duo. She created an electronic soundscape with the modular synth benjolin to broadcast in the gallery space for the exhibition curated by artist Angela Grauerholz, Michèle Lemieux | The Whole and Its Parts, From drawing to animated films, exhibited at the Centre de design, Université du Québec à Montréal September-November 2016.
With artist and animator Nicole Antebi, she has ongoing animation-sound projects that include live performance and processing with Grey performing a vintage Merlin music machine: Procrustean Bed, composed for violinist Lynn Bechtold, premiered at the New West Electronic Arts and Music Organization Festival in San Diego; and Magic Square, a triple collaborative effort, features new music by synthpop pioneer, Vince Clarke, and premiered at the Morbid Anatomy Museum in Brooklyn, New York.
With David Morneau, she has established l'Artiste ordinaire. Their recent concert-length performance, Photon Ecstasy, an adaptation of Dan Rose's artist book The DNA-Photon Project premiered at the University of Pennsylvania's Kislak Center for Special Collections, Rare Books and Manuscripts in October 2016. Grey & Morneau also direct and produce Soft Series, a concert series dedicated to presenting soft premieres, which is live streamed and archived by Clocktower Radio.
Grey teaches Sound Studies at the School of Media Studies at The New School in New York City. She is an Associate Director of Composers Concordance, and a Board Member of Miolina, the violin duo of Lynn Bechtold and Mioi Takeda.
melissagrey.net
Ensembles